(This article has been moved from my previous domain hyperbrain.me to this location.)
In this article I'm showing you how to bind a book using whatever paper you have at hand and just a few tools that most people have at home.
I don't claim in any way to be a skilled bookbinder – this is just a simple technique I know that works perfect for making smaller notebooks without much effort. I was even able to teach my young nieces how to do the stitching, so I'm sure you'll be able to bind your own book as well.
You will need:
Paper for the pages
Leather, cardboard or another sturdy and foldable material for the cover
Scissors or a rotary cutter
Ruler
Pencil (and a light marker in case you use a dark cover)
Bone folder (optional)
Awl or other pointy object for making holes
Sewing needle
Thread – I used normal sewing thread but for more stability I would work with a thicker waxed flax thread or similar
Start with cutting out your cover to the desired size. In my case I was limited to the shape and holes in the scrap leather piece I was using.
Measure the cover to cut the pages to a fitting size. Preferably cut the pages a couple of millimeter shorter than the cover in each direction.
This is especially important if you're using a thick cover material and/or if your book has many pages. The quickest way to cut the pages is to put a few of them on top of each other and cut with a rotary cutter, else you can just draw up the lines on each page and cut them with scissors.

Find the middle of the cover and mark out the points where you want to make your stitches. Since I was making a book with few pages and in a small format I chose a rather wide distance between the holes. For thicker books and to give more stability, sew with more stitches closer together.
Fold all your pages in half. I smoothed out the edges with the help of my bone folder.
Place the pages on top of the cover and mark out the stitching points with a pencil on the crease.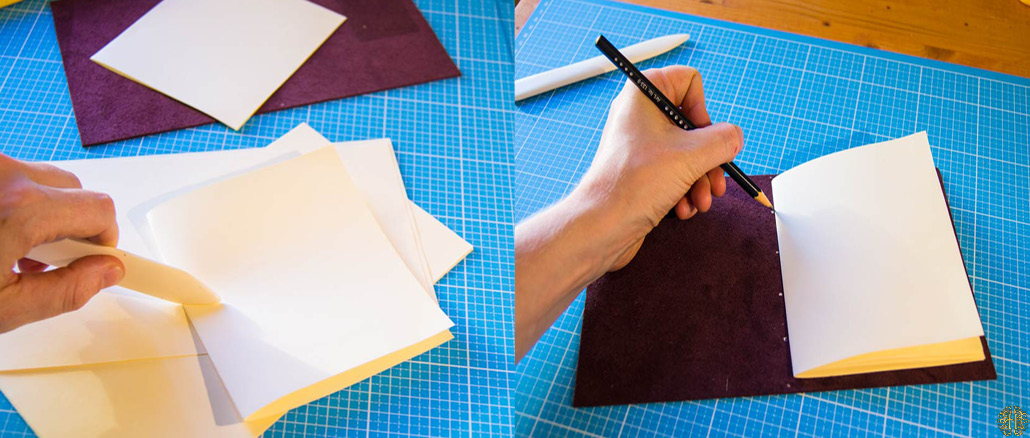 Open the pages again and punch holes through the marks. Do the same for the cover.
Thread your needle with enough thread to sew through your holes and back again (two times the length of the book should be about enough). I worked with double thread to get a bit more stability.
Put the pages inside the cover and start stitching from one of the inner edges. Leave a bit of thread since you will need it for tying a knot at the end. Push the needle all the way through and let it enter in the next hole from the outside.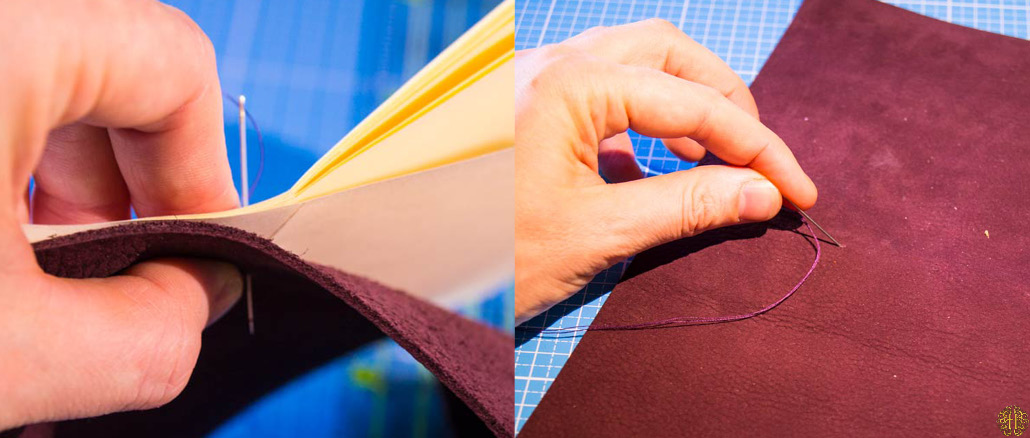 Work your way through up and down until you reach the edge. Then work your way back to where you started.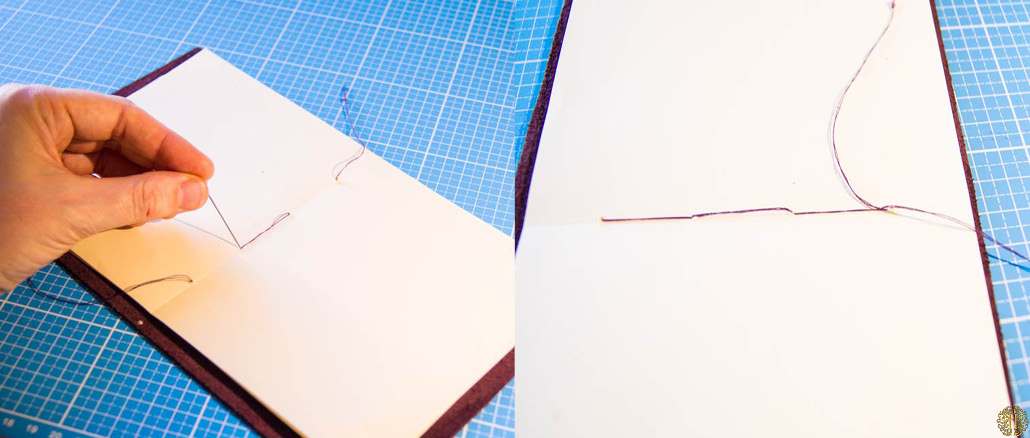 Tie the threads together with a double knot and cut them off. You now know how to bind a book!
I decided to give my book a simple autumn theme by painting a golden acorn on the cover.
Här hittar du fler hantverkstips